Overwhelming Shopper Response to New Crop!
It's apple time! The new SweeTango® crop is in, and folks just can't get enough of them. New data from recent in-store demos shows that this crop of SweeTangos is scoring high marks with shoppers on several key purchase drivers including taste, quality, convenience, and value. Next Big Thing, A Growers' Cooperative has focused on both direct-to-consumer communications and in-store visibility to make sure every shopper knows that SweeTango delivers that consistent quality worth craving.

"SweeTango is becoming a tried and true leader among the many managed varieties available on store shelves. And we are constantly looking at additional ways we can help SweeTango stand out in retail and other emerging markets," said the grower co-op's Executive Director Jennifer Parkhill. "NBT remains on the cutting edge of promoting new apple varieties and stands poised to set a new standard in both promotion and marketing excellence in apples."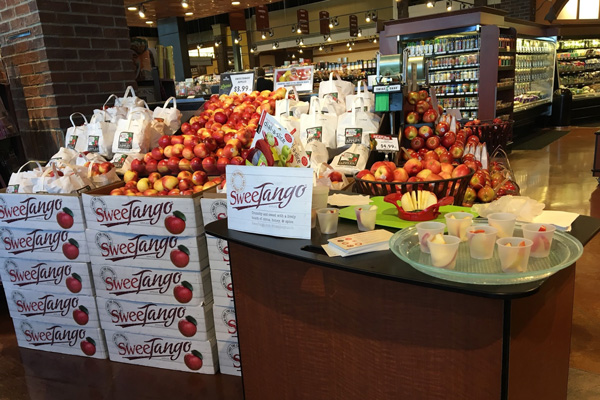 According to a press release, 98 percent of shoppers who tried SweeTango apples during recent in-store demos reported that they "loved the flavor," 93 percent called the apple a "healthy choice," and 82 precent rated SweeTango a "great value." Some other factors that contributed to the high marks from the shoppers were the apple's convenience, ease in preparation, and versatility.
It also helps that the crop this year is superb. This season, SweeTango volumes will last into the New Year for the first time, and Scott Swindeman, Owner of Applewood Fresh Growers, couldn't be happier.
Scott Swindeman, Owner, Applewood Fresh Growers
"We've got a quality crop this year, this is the nicest colored and conditioned crop we've had in the Midwest since the SweeTango program began. For the first time, we'll have fruit into January, so this is a great time for retailers to build on and extend SweeTango's fan base," said Swindeman. "We are having tremendous success with our pouch bags and tote bags; they are a great consumer value."